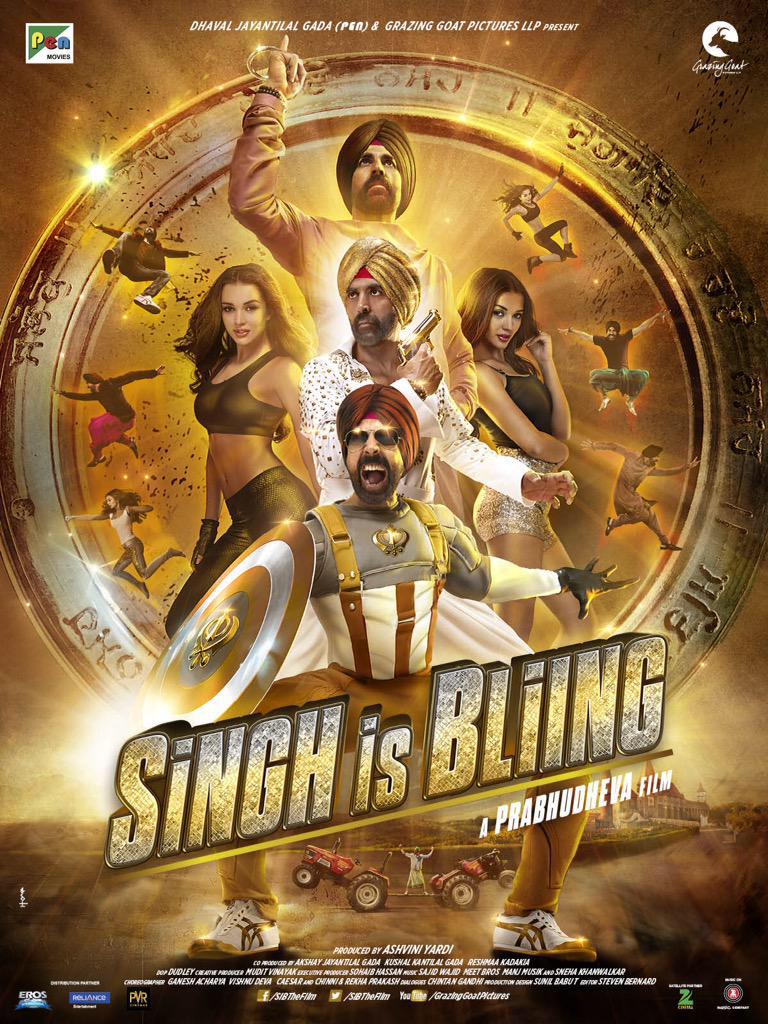 Singh is Bling makes you wonder what Akshay Kumar eat for breakfast to fuel the insane vigour he brings onscreen and where was Lara Dutta hiding her comedic talent all these years? It is truly a killer combination. Singh is Bliing's opening credits roll against a remixed version of Sneha Khan walkar's fantastically peppy "Tung Tung". We see a delirious Kumar cracking out bhangra moves with such enjoyment that you might just feel your muscles ache on his behalf. You describe Kumar's performance as Raftaar Singh is high octane.
Kumar plays Raftaar Singh, a good-for-nothing Punjabi lad whose chief qualification is that he's momma's boy. Raftar's father has a friend in Goa who runs a casino. When Raftaar takes Rs 50,000 from his father's cupboard without permission, his dad tells Raftaar that he's got to grow up. How? By marrying an overweight village belle or going to work in Goa. Does this make logical sense? Of course not. But if you've come to see Singh is Bliing with expectations of realism, you're more of an idiot than Raftaar, who lives up to the stereotype of sardars being loyal, bhangra-powered, lovable fools.
In Goa, Raftaar meets a woman who is more than his match. Sara (Amy Jackson) is an arms dealer's daughter who catches the eye of deranged gangster Mark (Kay Kay Menon). What better way to deal with an insane Indo-Romanian stalker than to chill out in Goa, at her dad's friend's bungalow? Raftaar is appointed as Sara's chaperone in Goa. She doesn't speak Hindi. He doesn't speak English. Enter Lara Dutta as the translator, Emily (whom Raftaar and his friends call imli).Adding heft to the theory that ageing can work wonders is Dutta. On the 'wrong' side of her thirties, Dutta is a revelation in Singh is Bliing. She looks great and adds an amazing amount of comedy practically every moment she has onscreen.
When Kumar and Dutta come together in the "Dil Kare Chu Che" — a rare example of a song that is actually connected to the plot instead of being generic — it's so funny Prabhudeva's last film was the distasteful human endeavour titled Action Jackson.  From the director who made that film, you do not expect a follow-up in which the women characters really are heroines. Singh is Bliing may be Kumar's film through and through, but he is capably supported by Rati Agnihotri as his stay-at-home mum, Dutta as the goofy translator and Jackson as the nut-busting Sara.
It's almost as though Singh is Bliing is Prabhudheva's attempt to redeem himself after all the criticism for Action Jackson. Singh is Bliing pokes fun at the male ego again and again. Women take charge smoothly and don't need men to save the day until the very end, when the alpha rises. Singh is Bling is essentially a set of well-written comic sketches, featuring recurring characters. There's nothing evolved or sophisticated about this film, but that doesn't mean it's not worth a watch. Singh is Bliing is just what the doctor ordered to lift your spirits! It is feel good commercial cinema!
Rating: 3.5 Stars | 7/10